Exclusive
EXCLUSIVE: Jersey Shore's Vinny Hooks Up With Girlfriend Of Snooki's 'Smush'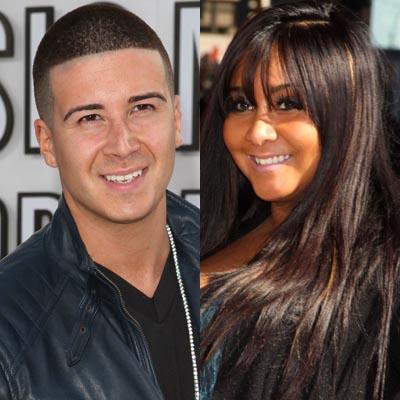 The Jersey Shore kids recycle - each other.
There's a new hookup that RadarOnline.com has exclusive details about, but it's a little tricky.
Snooki hooked up with Dennis Figueroa during a recent episode, but he failed to mention he has a girlfriend; Lachia Damis.
Lachia was furious and told RadarOnline.com, "Snooki stole my boyfriend!"
Furious at the pint-sized star's hook up with her boyfriend, Lachia headed to The Dizzy Bulldog bar in Delaware on Saturday night where she met up for a steamy rendezvous with Vinny. Are you following?
Article continues below advertisement
"I didn't think he was that cute on TV, but I was instantly attracted to him in person. He's kind of shy," Lachia told RadarOnline.com in an exclusive interview.
"I went to the club and headed immediately to the VIP section. I hung out on stage with him and we were side by side the whole night."
Lachia tells us that's when things got romantic: "He invited me back to his hotel. I was making fun of Vinny; he kept his sunglasses on even inside the whole time.
"He made the first move. Vinny went into the bathroom and told me to go in there with him, so I did. He's an alright kisser and he's a sweetheart," Lachia said about her hookup.
"He's adorable," Lachia said, explaining that they just kissed in the bathroom and then went to the hotel room next door and kissed some more, but they didn't "smush!"
"Vinny kept teasing me that I was only with him to make Dennis mad, but that's not true... I thought Vinny was great!"