Exclusive
EXCLUSIVE INTERVIEW: Danielle Staub Bars Former NJ Castmates From Her Spinoff Show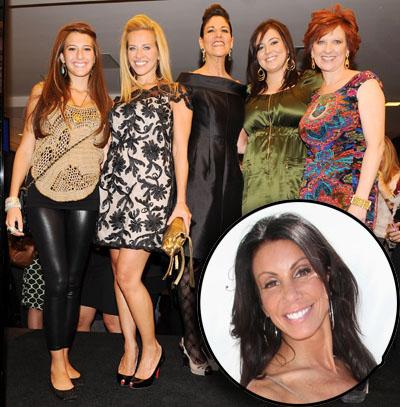 The Real Housewives of New Jersey's favorite villainess Danielle Staub is stealing the spotlight for herself -- when it comes to her own show, that is.
In an exclusive interview with RadarOnline.com, Staub says her former castmates will not be welcomed on her upcoming spin-off.
All the season's banter, backstabbing and bullying has finally gotten to Danielle and she's had enough so don't expect to see Caroline, Teresa and Jacqueline on her new television venture.
Article continues below advertisement
"Not from my franchise, no!" she told RadarOnline.com exclusively.
"It's mine, it's all mine. I made peace at the end of the reunion by my departure and it was my idea to depart. It was a peaceful time for me and I wanted to leave and I was just trying to say goodbye from a 12-hour shooting day... but it really marked for me my new beginning and I'm really excited about it because when you close one door, not just another one opens but so many more."
Despite getting lunged at by Teresa within minutes of the reunion and walking off set at least two times, in a surprise gesture Danielle hugged it out with the ladies.
"It was something I did because at one point Jacqueline and I were very good friends. But the rest of them are fair game. Teresa, I just couldn't get her to shut up. She was still going at it, so I genuinely hugged her because it calms my children if my children are upset and I could see she was getting upset again, so I genuinely hugged her because I was done.
Article continues below advertisement
"...And I wanted to hug Jacqueline and just say goodbye to her and whispered in her ear and tell her I'm okay and I'm happy, so I'm moving on and I want you to know that there is no more on this and I love you and I will still love you... It wasn't a way of me saying I want a friendship with you, it was my way of saying goodbye and I'm moving on."
So the other New Jersey housewives may not be getting any screen time, but Danielle does have her favorites from the women on other Bravo shows.
"I don't have a problem with any of the other cast members in any of the other franchises except for the ones that were on my own," she said. "I haven't watched Beverly Hills yet but now that I have met someone from the show I will be watching.
PHOTO: See The Mug Shot - Real Housewife Sonja Morgan Arrested For DWI
"And Jill Zarin and Kelly Bensimon, they've reached out to me on several occasions with very, very, very kind hearts when I've been under fire and befriended me and they've also vindicated me in situations knowing that there were lies going on because the other women on my cast had gone to them... they were my favorites because they just kept it real and a lot of people aren't real and don't tell the truth."