Exclusive
EXCLUSIVE DETAILS: Michelle 'Bombshell' McGee Kicked Out Of Party By Jewish House Owners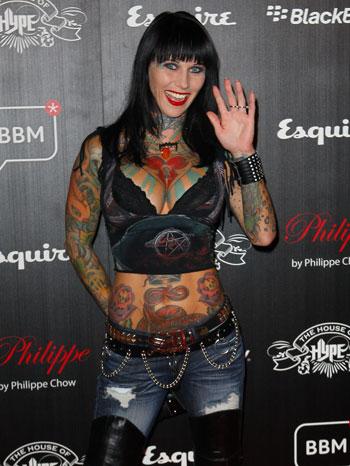 Michelle "Bombshell" McGee, the notorious mistress — with Nazi tattoos — who brought down Sandra Bullock's marriage to Jesse James, was booted from an exclusive party at a Beverly Hills mansion because the event's hosts were Jewish celebrating Rosh Hashanah and Yom Kippur, RadarOnline.com has learned.
"This woman has Nazi tattoos on her body and that is a pretty bold statement," said a source, familiar with the situation.
Article continues below advertisement
"It is what she is known for and what people associate with her, that is why the Jewish hosts wanted her to leave.
"The party was right in the middle of the Jewish High Holy Days, the most sacred holiday of the year."
As RadarOnline.com exclusively revealed, Bombshell has a swastika tattoo inside the Nazi Iron eagle symbol tattooed on her lower belly, below the snake tattoo that can been seen above her bikini line.
While the swastika tattoo wasn't visible at the party celebrating the MTV Video Music Awards, the knowledge of its existence was enough to offend the home owners.
Despite some reports, Bombshell "didn't cry or anything" when she was asked to leave.
But noted one onlooker: "She wasn't happy about it."
"Everyone was relieved when she left," a source told RadarOnline.com.
In an exclusive interview with Hollywood.TV and RadarOnline.com filmed this most recent incident, Bombshell admitted her Nazi tattoos were a mistake.
Article continues below advertisement
"Am I a racist? Absolutely not," McGee said in defense of the 'WP' and swastika tattoos on her body.
"WP at the time stood for 'White Pride.' It's something that I did in my late teens. Another huge, huge mistake that I deeply, deeply regret."
"There was a swastika tattoo on my body and it was very small, not that it makes a difference, but it was covered up," she added.
"Another stupid tattoo that I put on my body but unfortunately we all make mistakes."