Exclusive
EXCLUSIVE COURT DOCUMENTS: Miami Court Says Paris Hilton Breached 'Pledge This!' Contract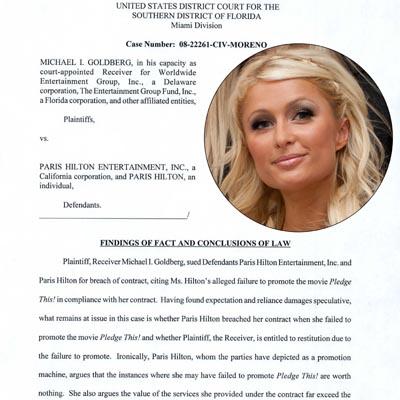 Paris Hilton's life is anything but simple these days.
DOCUMENTS: Paris Hilton's Breached Contract
A Miami judge ruled Thusday that the socialite breached her contract with Worldwide Entertainment four years ago when she neglected to promote the 2006 film Pledge This! in a series of interviews she did with publications in the United Kingdom and Russia.
While Worldwide Entertainment asked for $8.3 million in restitution for Hilton's neglected duties, the court, after conferring with experts, said they found "that these instances of failure to promote were worth $160,000."
Article continues below advertisement
However, in order to find that Hilton was unjustly enriched and award the money to Worldwide Entertainment, "the Court must find these services do not amount to a million dollars" and "requests the parties provide expert report and briefing on this issue."
EXCLUSIVE: Paris Hilton Says Bizarre $35M Lawsuit Has 'No Merit'
Hilton's attorneys argued that the no-shows did not financially hurt the investors, and that the work the Stars Are Blind singer did for the film amounted to much more than the $1 million paycheck she received for it.
Lawsuit Claims Paris Hilton Abused Drugs, Alcohol -- And Failed To Wear Hair Extensions
The judge did not set a final reimbursement amount Thursday, instead implementing an October deadline for both parties to submit their audits of how much work Hilton did, and what dollar figure to put on said services.
It's been a rocky summer for The Simple Life star, who was stopped twice by police on suspicion of marijuana possession while on vacation. She was arrested last week in Las Vegas and charged with possession of a controlled substance after police found cocaine in a purse she was carrying.