Exclusive
EXCLUSIVE: Cameras Banned From Lindsay Lohan's Court Hearing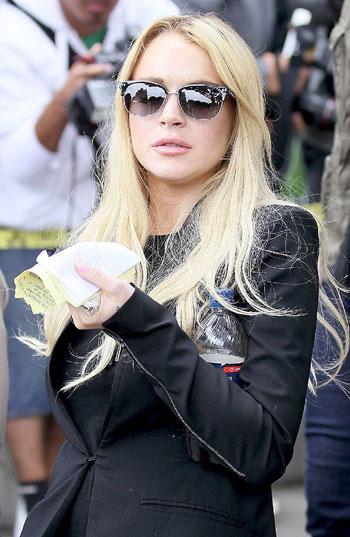 Lindsay Lohan's moment of truth before Judge Elden Fox will be banned from television screens, RadarOnline.com has confirmed.
The judge – who has been left with egg on his face, after slashing her court-ordered 90 day stint in rehab – has denied media requests to have a camera in the courtroom during Friday's hearing, preventing a live shot of Lohan's reaction when the ruling is handed down.
Lohan must appear before the judge for violating terms of her probation, after she failed her court ordered drug tests when the results showed she had cocaine in her system.
Article continues below advertisement
The starlet's previous judge, Marsha Revel, allowed cameras in the court for the hearing when Lindsay was sentenced to the 90 days in jail and 90 days in rehab.
The cameras zoomed in on Lindsay's hand during the hearing, showing the expletive "F*ck U" she painted on one nail.
Pat Kelly, spokesperson for Los Angeles Superior Court, told RadarOnline.com: "It's my understanding that Judge Fox has denied cameras in the courtroom for Ms. Lohan's hearing tomorrow."
MORE ON:
Judge Marsha Revel
As RadarOnline.com previously reported, Lohan is facing up to 30 days behind bars for failing her mandatory drug test.
RELATED STORIES: