Exclusive
EXCLUSIVE BLOG: Gloria Allred - Clinton Portis Looking At Men's Packages? NFL Players Who Harassed Female Reporter Need To Check Out The Law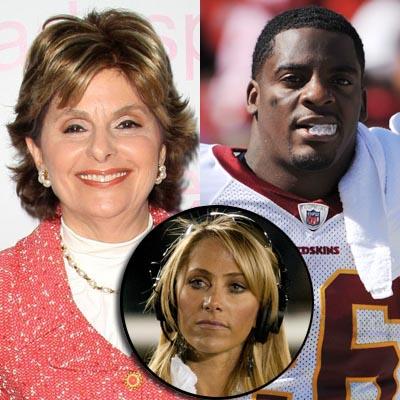 Ines Sainz is a TV reporter who recently made headlines when she covered the New York Jets and the NFL players engaged in behavior that some people defined as harassment. Los Angeles power attorney Gloria Allred has spent decades protecting women's rights and wrote this blog about the Sainz situation exclusively for RadarOnline.com. Here are Allred's comments:
Last week Ines Sainz, a reporter for T.V. Azteca, entered the locker room of the New York Jets in order to do her job which was to interview Jets quarterback Mark Sanchez.
Article continues below advertisement
Not long after she entered the locker room she tweeted that she was "dying of embarrassment", because the Jets players reportedly whistled, hooted and uttered cat calls at her.
Some other reporters filed a complaint and as a result on Friday the NFL announced that its investigation of this incident found "unprofessional conduct" in the locker room. In addition to an apology to Ms. Sainz, the NFL will start a training program to teach proper conduct to its players.
Allred: I Represent Women, Whether They're Popular Or Not
What is most disturbing to me is the response of some men who want to blame Ms. Sainz and who suggested in comments and interviews that she was not dressed appropriately for her job. They suggested that because of the way that she was dressed it was essentially her fault if the players who hooted at her responded the way that they did.
For the record, when she entered the locker room Ms. Sainz was wearing tight jeans, high heels and a white blouse, an outfit to which her employer apparently had no objection. Anyone who thinks that network television sports executives object to their female reporters' looking beautiful, fit and "sexy" simply haven't been watching sports on television for the last ten years.
Article continues below advertisement
Nevertheless, many commentators seem to feel that it was fair to blame Ms. Sainz and suggested that the way that she was dressed was responsible for the reaction of some of the football players in the Jets' locker room.
Allred Client: Roman Polanski Raped Me
Video was played and replayed on television focusing on her butt, and her tight fitting jeans.
NFL network analyst, Brian Baldinger, is quoted as stating, "If you come into the NFL dressed the way that she is dressed you are just asking for it......boys will be boys I guess." He went on to say "Don't take her through the locker room".
Cardinals defensive end Darnell Dockett is said to have tweeted "Women stay out". Redskins' running back Clinton Portis is quoted as suggesting that Ines really found the men in the locker room appealing.
"And I mean you put a woman and give her a choice of 53 athletes somebody got to be appealing to her. You know, somebody got to spark her interest or she's gonna want somebody. I don't know what kind of woman won't, if you get to go and look at 53 men's packages."
Article continues below advertisement
The concept that Ines may really have been in the locker room to do her interview rather than size up men's "packages" seems not to be a possibility to the all knowing all seeing Clinton Portis.
Whether he himself has been focused on men's packages too long, and thinks that women are focused on them as he apparently is, we will never know. I can only hope and pray that the NFL training will help him to focus on something else, like the right of women sports reporters to be able to do their job without players making demeaning comments, gestures or cat calls to them.
Unfortunately, this is not the first instance in which a woman's dress and her attire have become a subject of discussion in the workplace.
I represent Debrahlee Lorenzana in her case against Citibank, her former employer. Debrahlee began to work as a business banking officer for Citibank in September 2008. Although she always dressed in compliance with Citibank's dress code, management almost immediately made comments about Debrahlee's dress.
Article continues below advertisement
She was told that she should not wear pencil skirts, turtle necks or business suits that showed her "figure" and that her pants were too tight.
Debrahlee alleges that, to the contrary, none of her outfits were too small, or too tight or particularly form fitting and she pointed out to management that her dress was business attire. Nevertheless, management told her that her manner of dress was not appropriate because she drew too much attention, because her body was very different from the others.
Debrahlee contended that men were not subject to such sexually discriminatory remarks and that when she protested such treatment she became the victim of a campaign of retaliation by Citibank against her.
She was ultimately terminated by Citibank using what we contend was a pretextual and unlawful excuse.
EXCLUSIVE: Debrahlee Lorenzana Calls For State Investigation
Yes, it appears that boys just "wanna have fun" at the expense of women and their rights. However, it is 2010 and the law and changing social norms have now mandated that women's right to equal employment opportunity must be taken into account in the workplace.
Even if it is the NFL and players are rich, famous and admired or even if the employer is a financial giant like Citibank, they must play by the new rules. They no longer enjoy unfettered and unlimited power and privilege to denigrate women in the workplace, and the package they must focus on is the package of laws which protect women against sexual harassment and gender discrimination.
If they can't handle that perhaps they should stay out of the locker room or the banking business because women and our rights are here to stay.