Dina Lohan: Snooki's Judge Acted 'Unprofessional' With Comparison To Lindsay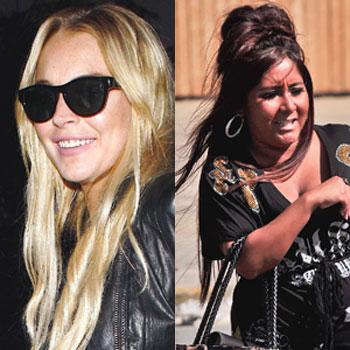 Snooki's judge may have garnered some snickers in the courtroom when he compared the Jersey Shore star to Lindsay Lohan, but it wasn't funny to the star's mom and her lawyer, RadarOnline.com has learned.
"I felt it was a very unprofessional way for a judge to act," Stephanie Ovadia, who represents Dina and Lindsay in her current E*Trade lawsuit, told RadarOnline.com exclusively.
On Wednesday, Snooki appeared before a judge in Seaside Heights, New Jersey, on charges of disorderly conduct, creating a public nuisance and being criminally annoying after a drunken display on July 30.
Article continues below advertisement
The judge told her Snooki was "acting like a Lindsay Lohan wannabe" as he handed down his sentence for being drunk in public and being "criminally annoying."
The State agreed to drop the most serious charges against her and the judge then fined the self-described "guidette" $500, ordered her to pay $33 in court costs and to perform two days of community service, working with the local animal control.
The judge gave her one day credit for community service for her prior charitable work.
In addressing the court, Snooki said: "I would definitely like to apologize to Seaside cops.. When I saw what happened.. I was very embarassed.. It's never happened before.. I would defiantely like to apologize."
The judge also asked her flat-out if her behavior was scripted for Jersey Shore; Snooki said it was not.