Britney Comes To Glee: A Play by Play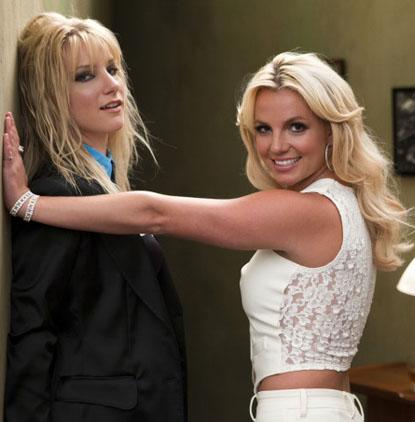 We couldn't wait to find out how in the world a Britney Spears cameo (or two or three) was going to play into Glee on Tuesday's must-see Britney tribute. And leave it to Glee to find a genius tie-in that involved drugs and John Stamos. Oh yes, as an added bonus, John Stamos joined the cast tonight as Emma's dreamy, new dentist boyfriend, Carl. After discovering that half the Glee club has plaque build-up – they all take their turn in his chair and under his anesthesia all dream a Britney fantasy come true. Each finds themselves with a different connection to the pop icon—with an obsession for her music fueled by Will's insistence that they not perform Britney tunes at the Homecoming pep rally.
Article continues below advertisement
First up is Glee Club/Cheerio Britney (who claims she's spent her life living in Britney Spears' shadow because of the similarities to their names). Side note, she's played by Heather Morris who is a professional dancer that toured with Beyonce before her Glee days—so we finally get to see her dancing chops. She pays homage to Brit's famous looks (like the "Oops! I Did It Again" red cat suit) while belting out "Slave 4 U." She literally had us do a double take with how closely she resembled Miss Spears from looks to moves.
Exclusive Video Interview: Jane Lynch Gets Waxed
Then Santana joins Glee Club/Cheerio Brittany at the dentist where they have an intertwined fantasy where they sing "Me Against the Music." Brittany just slays those dance moves while it's nice to see Santana get a solo by taking over the Madonna parts. Finally at the end of the number, the real Britney and Brittany come face to face.
Now, of course it wouldn't be a Britney Spears episode if Rachel Berry wasn't in on the action. Feeling insecure about the possibility of Finn rejoining the football team—she goes in for her dentist appointment and goes right into a scene by scene remake of the "Hit Me Baby (One More Time)" video (which also features the second Britney Spears cameo of the night). This of course inspires Rachel to dress a la Britney at school—causing all the guys to fall all over themselves like tongue tied little puppies (much to Finn's chagrin) as she struts her stuff through the hall.
Article continues below advertisement
Glee Cast Hit Santa Monica Pier
From then on, a Britney Spears inspired sexual revolution takes over the school.
Next thing we know, real Britney (in a Cheerio uniform) is recommending that Britanny (who, PS, declares her love for real Britney) put ranch dressing on her pizza and scolding Jenna for dumping Artie. He responds by launching into his version of "Stronger" in a football inspired video. The song works with a male vocal—who knew? And, this of course motivates Artie to want to try out for the football team more than ever.
And, finally Will jumps on the Britney bandwagon and agrees to let New Directions perform a Britney song at the Homecoming pep rally (mainly because Sue is so against it) as long as he can join them. So, in the first "non" fantasy Britney performance, the gang sings a sexy and steamy rendition of "Toxic." This sends the entire student body's hormones into overdrive or as Sue declares (before hitting the fire alarm to end the racy number) – "a Britney Spears sex riot."
Article continues below advertisement
The night ends with Sue threatening to sue Will over the injuries she sustained during the alleged sex riot and Emma and Will having a heart to heart. We love that John Stamos is gonna be back as Emma's new guy—but we are rooting for a Will/Emma reunion. You know it's coming—but we have a feeling we're going to have to wait it out. And, Rachel realizes that even with Finn back on the football team that he does love her despite their opposite social statuses. To celebrate their solidarity as a couple, she serenades him in front of the Glee club. But, she doesn't sing Britney—instead she goes with "You Are the Only Exception" by Paramore. Turns out the group (especially Will) finally got sick of Brit.
But, we sure didn't! As amazing as this love letter to Brit was—we would have loved to see more of her! We know asking for Brit to perform would be a bit much—but one or two more appearances would have made this amazing episode absolutely perfect!