PHOTOS: Best, Worst & Wackiest Fashions Of The Weekend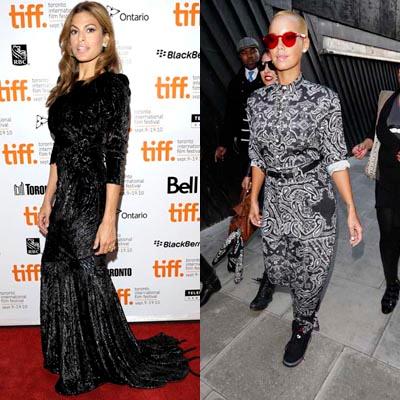 Eva Mendes has been getting drenched in unflattering frocks as of late, so we were delighted to see the leading lady finally show off that hot bod at
the Toronto International Film Festival over the weekend. Walking the red carpet for the premiere of Last Night in a velvety Andrew GN gown from the Fall 2010 Collection, Eva looked startling chic and absolutely flawless!
And while New York Fashion Week came to a close last week, stars jetted over to London to see the Spring 2011 collections from designers such as Vivienne Westwood and Christopher Kane. Amber Rose was spotted sitting catwalk-side for the shows, missing the a la mode mark not once, not twice, but three times!
Article continues below advertisement
Her worst fashion police offense was a paisley jumpsuit (her pal carried a purse with a matching bandana tied to it!), but at least she was dressed for her arrest!
Julia Roberts showed off her superior stems at the San Sebastian International Film Festival premiere of Eat Pray Love in a totally sharp blazer and skirt suit, while Vanessa Hudgens looked fun and fab in a Blu Moon Summer Lovin' dress at the Legend of the Guardians: The Owls of Ga Hoole' premiere in Los Angeles.
Janice Dickinson and Pamela Anderson defined wacky at London Fashion Week---but seeing is believing! Check out the gallery in Style to find out
what the multiple offenders wore to pal Vivienne Westwood's over the top fashion show!