Best, Worst & Wackiest Fashions Of The Week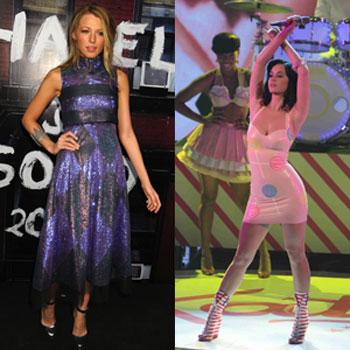 From the glamorous red carpet of the Venice Film Festival to the tents of Mercedes-Benz Fashion Week in New York City, the stars were out in full force this week in the sizzling and fizzling style.
Sarah Jessica Parker and Blake Lively competed for the title of fiercest fashionista at the re-opening of the Chanel Soho store. While the Gossip-worthy Lively dazzled in a purple and black Chanel Couture creation, the Sex and the City star opted for a nude and black number from the French fashion house's Resort 2011 collection.
Article continues below advertisement
When granny dresses up in Grunge it looks something like the not-so-stylish street wear Lindsay Lohan was sporting. If she doesn't watch it, she may get thrown back in the slammer by the Fashion Police!
Julianne Moore experienced a bust in Balenciaga at an event for Fashion's Night Out in NYC, while Nick Nolte was Down and Out in Beverly Hills once
again, looking more homeless than hot.
We can't get enough of Katy Perry in her sexy Syren latex dresses, but enough of those red, white and blue Chanel ankle boots already!
And Dianna Agron's Glee-full relationship with Carolina Herrera continued to deepen, as the blonde beauty hit the 2nd Season and DVD Premiere Party of
her hit show, dressed to impress in yellow.
Who else rocked and shocked this week? Check out the gallery in Style to find out.