VIDEO: Witness To Off-Road Tragedy Says Scene Like "A War Zone"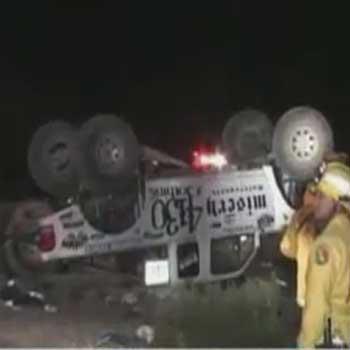 An eyewitness to the horror in California's Mojave Desert spoke with Good Morning America on Monday, as the fallout continues from the Saturday night accident in which a driver lost control of his truck during the California 200, an off-road event, and careened into spectators, killing eight persons and injuring 12 others.
Watch the video on RadarOnline.com
Keith Carty - whose friend and neighbor, 27-year-old Brian Wolfin, was among the dead - described the scene as "a war zone.
Article continues below advertisement
"I don't want to go too graphic, but there were definitely just really broken people," Carty said, noting that Wolfin, a father-of-two, looked like the worst casualty. "I knew Brian was dead when I saw him ... I was right by his side within 10-to-20 seconds from when it happened."
Carty said that Wolfin was standing by the Rockpile jump, which was the "center of this race" and the "most popular spot.
"Brian and all of those other people just happened to be in the wrong place at the wrong time," Carty said.
Carty said his obsession has been racing, but in the wake of the incident, he's going to spend more time with his children.
Brett Michael Sloppy, the driver of the truck, will not likely be charged in connection with the tragedy, officials said.
Sloppy, 28, of San Marcos, California wrote on his Facebook page Sunday: "Soo incredibly lost and devistated my thoughts and prayers go out to all the familys and friends involved.. Thank you too all my friends for sticking with me even thru these tragic times I love you all."