VIDEO & PHOTOS: Stars Walk The Red Carpet At The Other Guys Premiere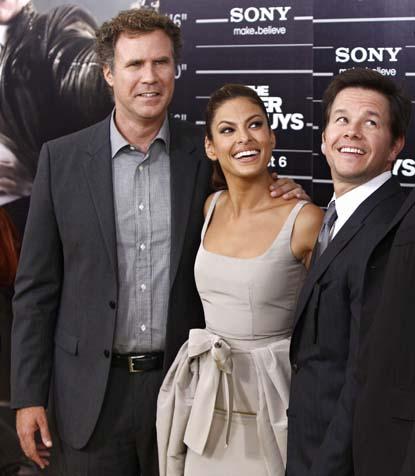 Mark Wahlberg, Will Ferrell and Eva Mendes walked the red carpet at the New York City premiere of The Other Guys Monday night, and RadarOnline.com has got pictures from the star-studded event for you.
Others from the police comedy in attendance at the premiere included Lindsay Sloane, Damon Wayans Jr. and Samuel L. Jackson.
The gorgeous Mendes told WENN that her two leading men, Wahlberg and Ferrell, love the way she smells, and aren't shy about nuzzling up to her to get a whiff.
Article continues below advertisement
"They just sniffed me on the red carpet and they both kind of sniffed me at the same time, and its very, oddly appealing," Mendes said at the premiere. "I don't know what the smell is, I mix my perfumes but I have this old Cuban perfume that has violets, so they must like the smell of violets."
The film, which also stars Dwayne Johnson and Michael Keaton, hits theaters Friday, August 6.