VIDEO: German Sports Reporter Hit In Head By Soccer Ball Speaks Out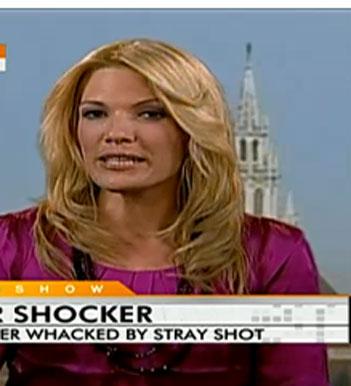 German sports reporter Jessica Kastrop - the web's newest viral sensation after she was whacked in the head by a soccer ball during a pregame broadcast of a match - says she's been hit in the head by a flying ball, not once, but three times!
Watch the video on RadarOnline.com
Kastrop - who spoke out about the incident on CBS's The Early Show Tuesday  - continued to talk for five more minutes after being hit, until she was off the air.
Article continues below advertisement
The ball was reportedly hurling through the air at 100 miles per hour.
Kastrop - appearing live from Munich, Germany - told Early Show host Harry Smith, "I was shocked in that moment."
Khalid Boulahrouz - the player who kicked the ball from the other side of the field - approached Kastrop and apologized. He later gave her an autographed ball, flowers, and even a helmet to protect her head. (Which she then wore!)
Since the incident happened earlier this month, the video has since gone viral, already getting hundreds of thousands of hits on sites like YouTube.
Kastrop says the first time she was hit by a flying soccer ball was back in 2005 - and she had to go to the hospital.
((Fun fact- CBS showed Jessica getting whacked in the head 14 times during their interview with her - ouch!)