VIDEO: Fantasia Barrino Breaks Silence On Suicide Attempt In First TV Interview - 'I Wanted To Be Away From Noise'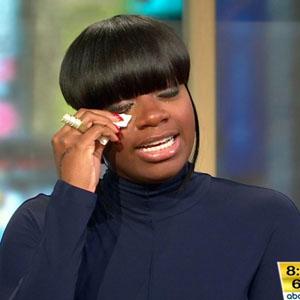 Fantasia Barrino appeared on Good Morning America Tuesday in her first live sit-down interview, two weeks to the day after she attempted suicide by overdosing on aspirin and sleep medication.
Watch the clip on RadarOnline.com
Barrino told GMA's Robin Roberts of her August 10 suicide attempt: "I was just overloaded, for six years I've been carrying so much... I always take a lickin' and keep on tickin.'"
Article continues below advertisement
She said her will to live nearly crumbled after recent reports sprouted that she'd been romantically involved with a married man named Antwaun Cook, and that the man's wife was threatening to sue her. (Noteworthy is what they didn't ask -- her status with Cook.)
She added the attempt was likely the cumulative result of six years of pent-up frustration toward everything in her life and career.
"It just became heavy for me, so I just wanted to be away from the noise," the 26-year-old American Idol winner said, noting she'd been troubled by past media scrutiny on everything from her education background to her accent to the way she took off her shoes to perform. "I just began to grow tired of taking so many licks."
Barrino said that the general public doesn't "understand, they see the glitz and the glamour, and everything's so perfect, but we're human and we go through things."
She said that she's tremendously benefited from working with a life coach since the suicide attempt, and that a nurse greatly helped restore her confidence and spirit after the harrowing incident.
The singer's new album, Back To Me, is in stores now.