VIDEO: Duggars Rally Around Recovering Baby Josie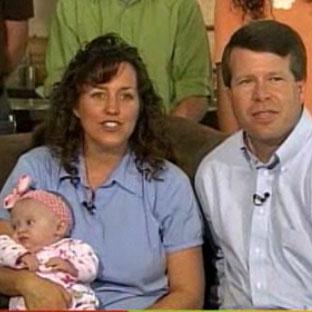 The entire Duggar clan of TLC's hit reality show 19 Kids & Counting appeared on the Today Show Tuesday, and shared good news regarding the health of their youngest child, Josie Brooklyn, who was born almost three months premature last year, weighing only a pound and 6 ounces at birth.
Watch the clip on RadarOnline.com
VIDEO: The Duggars Go On A Family Road Trip
"She is doing remarkable," mom Michelle told host Meredith Vieira, adding that the baby, who was born December 10, 2009, is now up to 11 pounds, 6 ounces.
Article continues below advertisement
When Vieira asked about another health roadblock in the baby's path -- she is lactose intolerant -- dad Jim Bob said the baby is "doing very well" with a modified diet including lactose-free formula, and "her health is thriving" as a result.
Michelle said that while the child is still using supplemental oxygen, it's only when she sleeps. Jim Bob said that the baby should be caught up with her peers developmentally by the time she turns 2-years-old.
"Its amazing how well she's doing, and we're just so thankful to God that she's thriving and doing well," the proud papa said.
The conservative Christian family follows Quiverfull, a movement that places an emphasis on the Bible's demands to be fruitful and multiply.
When Vieira asked Michelle if the problems with Josie would inhibit her from having more children, Michelle responded: "When we look at Josie -- we were just talking about it this morning -- knowing how we went through the challenge we did, we would do it again. Here we have this precious gift and its a miracle, it really is... the precious life we see here is not a coincidence.