VIDEO: Dr. Frank Ryan's Mother Wishes Him "A Long Life" At 50th Birthday Party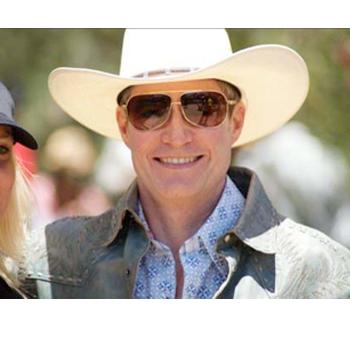 As celebrities continue to pay tribute to Beverly Hills plastic surgeon Dr. Frank Ryan, RadarOnline.com has found touching video from his 50th birthday party at his Bony Pony Ranch in Malibu, California.
VIDEO: Dr Frank Ryan's 50th Birthday Party
More than 600 people gathered to celebrate his birthday on Sunday, May 23, 2010. Sadly, the video begins with Ryan's mother saying to the camera, "Happy birthday dear.. birthday boy... our miracle baby. He's been wonderful, and I hope he has a long life."
Article continues below advertisement
In another part of the video, the dance troupe Marvel Inc performs as a tribute to the charitable surgeon.
As RadarOnline.com previously reported, the noted plastic surgeon died after his Jeep careered off of the side of Pacific Coast Highway at Deer Creek Road in Ventura County, California around 4:30pm Monday.
Ryan was trapped in the vehicle, and died from major head injuries. Remarkably, his beloved dog, a Border Collie named Jill, survived the crash , but was seriously injured.
Ryan had gone for a hike with his dog just before the accident, and he Tweeted a photograph of his pet at the beach just prior to his death.
DOCUMENT: Read The Police News Release On The Accident
A passerby called 911. Efforts to save him failed, and the doctor was pronounced dead at the scene of the accident. An autopsy is being performed Tuesday to determine the exact cause of death.
Some of Dr. Ryan's celebrity patients included Heidi Montag, Vince Neil, Janice Dickinson and Playboy model Devin Devasquez.