VIDEO: Did Naomi Lie? Mia Farrow Disputes Supermodel's Testimony In 'Blood Diamond' Trial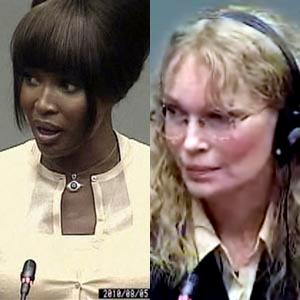 Actress Mia Farrow, testifying in the war crimes trial of ex-Liberian ruler Charles Taylor in the Netherlands Monday, said that supermodel Naomi Campbell excitedly told her she'd been given "a huge diamond" by Taylor following a South African dinner party in September 1997, contradicting Campbell's testimony she'd been given "a few ... small dirty-looking stones" from an unknown sender.
As RadarOnline.com has previously reported, Campbell, 40, testified last week that following the dinner party hosted by Nelson Mandela, she'd been woken up in the middle of the night and given a pouch containing the stones by two men, who remained silent throughout the exchange. Campbell claimed that she didn't know who sent her the stones.
Article continues below advertisement
On Monday, Farrow, 65, told the court a different version of the events, claiming that while she was eating breakfast with her children the next morning, Campbell bragged to her about the lavish gift -- and knew exactly where it came from.
"She said that in the night she had been awakened, some men were knocking at the door, and they had been sent by Charles Taylor," Farrow said. "And they had given her a huge diamond."
Farrow, under cross examination, said she "didn't see the diamond or diamonds" and was strictly going by "what Naomi Campbell said," adding that the model was excited by the gift, and told her she was planning on donating it to charity.
Campbell testified that she gave the stones along to a friend who was connected to children's charity run by Mandela. The volatile supermodel did not want to testify before the war crimes tribunal, until officials last month threatened her with seven years behind bars for contempt of court if she refused.
The stones -- commonly referred to in the news as a "blood diamonds" -- serve as proof that Taylor had been trading firearms to rebels in neighboring Sierra Leone during that country's civil war from 1991 to 2002, prosecutors said. In exchange, Taylor received the diamonds and other natural resources from the rebels.
Taylor, who's also accused of murder, rape, sexual enslavement and recruiting child soldiers, has plead not guilty to the 11 war crimes he stands accused of.