VIDEO: Author Claims Angelina Jolie Once Hired Assassin - To Kill Herself!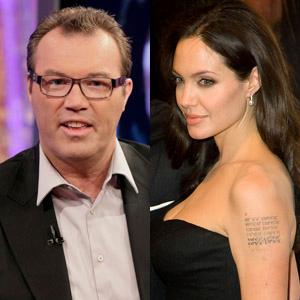 Angelina: An Unauthorized Biography is the sizzling new book about Angelina Jolie from celebrity biographer Andrew Morton and in it, he makes some wild claims, including one that the Salt star once hired an assassin -- to murder herself.
"She went through a bit of a depression, suicidal thoughts and on one occasion, she said she hired a hitman and she was going to pay by installments," Morton told Fox & Friends on Monday.
Article continues below advertisement
Morton also went into detail about Jolie 's admitted 'cutting', in which she would blow off steam by taking a sharp knife to various body parts.
"We're talking about cutting of the... neck, cutting of the thighs, cutting of the breast, with a knife, yep," Morton told Fox & Friends. "And that's a sense of a release and for most of us, it's weird but for someone like Angelina, who's in this psychological trauma, it's a release."
Jolie's past sexual conquests, Morton says, include  some of Hollywood's biggest names.
"Leonardo DiCaprio, for one. Mick Jagger," he said. "Here's this legendary lothario -- they're all lotharios -- she had this revolving carousel of men, leaving messages on her mother's answering messages, like 'Please call me…'"
Morton, in hopes of promoting the book, said the entertainment media has closed their doors to him out of fear of angering Jolie and hubby Brad Pitt.
Article continues below advertisement
"Brad and Angelina are the uncrowned king and queen of Hollywood and here we have all of these networks and entertainment shows and this book is the story of the week," he said, "but they're ignoring it because they're being courteous, rather like playing a basin to the king and queen of Hollywood."
Morton says he did his homework for the book, telling Fox & Friends that "there are more sources in this book than Heinz 57 ketchup. This book is people that have known her for 30 years -- her surrogate father, her drug dealer."
The book hits stores this week.