Transformers Star Rachael Taylor Says Boyfriend Bashed Her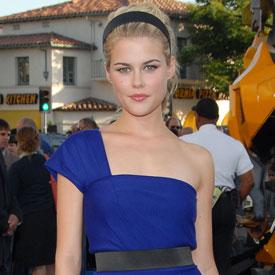 Transformers actress Rachael Taylor has been granted a temporary restraining order (known as an "apprehended violence order" in Australia) against her Aussie boyfriend after two alleged unprovoked violent assaults, RadarOnline.com has learned.
The 26-year-old star, who played Maggie Madsen in Michael Bay's blockbuster, has applied for a restraining order against ex-boyfriend, Matthew Newton, saying she fears "for her personal safety, well being and security" following two "gravely serious incidents" in Italy earlier this month.
Article continues below advertisement
The actress reportedly suffered serious injuries consistent with blows to the face and body after a public altercation between the couple in the foyer of a Rome hotel.
Police were called to the scene, but no charges were filed.
EXCLUSIVE: Transformers Crew Calls Megan Fox "Dumb As A Rock"
In a statement, Taylor said she "made the decision to send a clear message that violence, threats, abuse and intimidation were not acceptable and should be dealt with by the full capacity of the law."