Tomboy Shiloh Jolie-Pitt Makes A Splash In Swim Shorts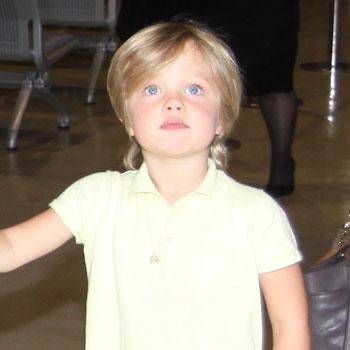 Shiloh Jolie-Pitt takes the plunge with her latest fashion statement - a pair of boy's swimming trunks.
The head strong four-year-old made a big splash by ditching a feminine swimsuit for baggy swim shorts, while playing by the pool during a family weekend in Berkeley, California.
But the exclusive shots of the tomboy on UsMagazine.com aren't phasing her super-sexy mom.
"It's not my choice. I have a very strong-willed four-year-old girl, who tells me what she wants to wear and I let her be who she is," said Angelina Jolie.
Article continues below advertisement
"I think people think kids should be a certain way, but I feel they should wear what they feel like wearing and they should express themselves.
"Shiloh cried one night and said, 'Please cut my hair off. I don't want to have long hair.' I'm not going to leave it long because somebody thinks I should."
Jolie has addressed her daughter's sense of style before, branding it 'fascinating'.