Tiger Woods Rebounds (On The Golf Course)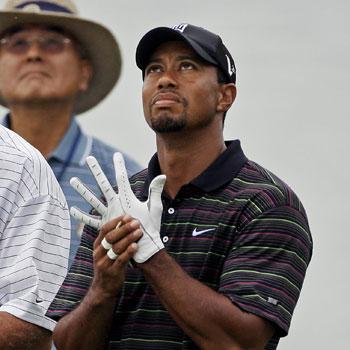 After the worst finish of his pro career at last week's W.G.C.-Bridgestone Invitational, Tiger Woods kicked off this year's P.G.A. Championship with a rousing start.
Tiger Woods' Golf Game Collapses Along With His Marriage
Barely holding onto his number one ranking thanks to injuries suffered by his closest competition, Woods began the say in Wisconsin with something to prove- namely, that he's still got it.
Article continues below advertisement
After a three-hour delay due to fog, Tiger birdied three of his first four holes and saved par on another which led him to a brief tie for the lead.
Though he struggled on the 15th hole with a bogey, he kept his focus and currently is two shots behind the leaders.
Earlier in the day, Woods shared his practice green with Y.E. Yang, who won last year's tournament after defeating Woods.