Sizzling And Fizzling Summer Style: Best And Worst Thursday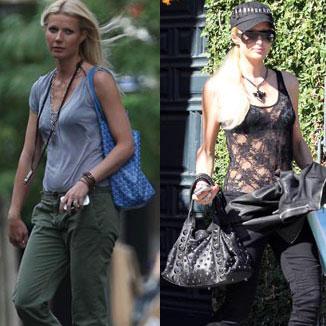 Gwyneth Paltrow definitely has summer style down to perfection. The gorgeous blonde actress was out and about in NYC yesterday, looking oh-so effortlessly chic in casual summer duds. Pairing olive green Current/Elliot khaki pants with a loose-fitting grey top, her favorite Givenchy sandals and a monogrammed Goyard bag the A-list actress scored our Best look of the day.
Paris Hilton on the other hand, looked a little too goth for the style season! The stunning heiress spent the afternoon at Kate Somerville spa in West Hollywood, wearing a totally sheer lace tank over a black bra with matching skinny jeans, Christian Louboutin boots and a black hat.
Article continues below advertisement
Keri Hilson dazzled at the Los Angeles premiere of Takers in an edgy ensemble, pairing 3.1 Phillip Lim suede and grommet shorts with a belted blazer and nude platforms. One of the film's stars, Chris Brown, tried to grab attention with his label-heavy leopard print getup, which we didn't really dig, while Hayden Christensen was pin-striped to perfection in a perfectly tailored suit.
Heidi Klum looked flawless in a black bikini, while vacationing in Portofino and Rachel Bilson was sweetly attired on the streets of Los Angeles.
What colorful bag did Julia Roberts bring with her to The Late Show with David Letterman? Check out the gallery in Style and find out.