Oh Baby! Singer Lily Allen Expecting First Child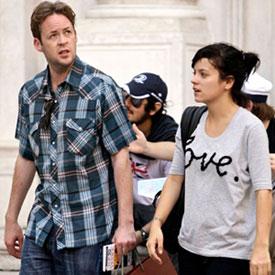 British songstress Lily Allen is expecting her first child, RadarOnline.com has learned, with boyfriend Sam Cooper.
The 25-year-old singer told the UK Sun she's "delighted" about the pregnancy, which comes nearly three years after she miscarried in January 2008. Early Thursday, she Tweeted a picture of herself holding up the English tabloid, pleasantly surprised her good news had made the front page.
Article continues below advertisement
Allen told Absolute Radio earlier this summer that if she became pregnant, she'd probably put the brakes on her music career, to some extent.
"I know what commitment it takes to release an album," Allen said. "I don't think that mixes well with the idea of settling down and having children, which is ultimately my main goal in life and more of a priority than flying around the world jumping up and down on stage singing songs."
Cooper, 32, owns a building company and has been dating Allen for a year.