SHOCKING VIDEO: Bull Goes Berserk In Spain; Jumps Into Crowd!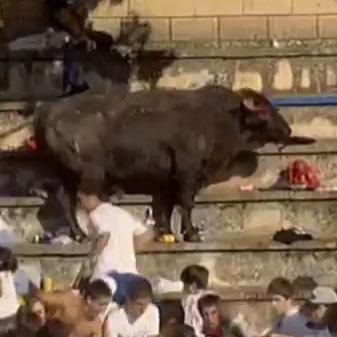 A bull jumped over a security fence and into the grandstands during an exhibition at Spain's Tafalla arena Wednesday, injuring 40 spectators in the crowd, and RadarOnline.com has the shocking video of the tragic incident.
Watch the video on RadarOnline.com
Pandemonium broke out in the stands as the large animal recklessly ran up into the aisles. The incident occurred during a contest called "recortadores," in which bullfighting pros attempt to stay as close as they can to a bull without actually touching it.
Article continues below advertisement
SHOCKING VIDEO: Woman Falls On Tracks As Train Speeds Toward Her!
"I was terrified," a female spectator told Basque television. "I ran out of the stadium, crying."
A 10-year-old boy was in intensive care with multiple bruises after the bull fell on him, and another 24-year-old man suffered back injuries, according to local officials. Thirty eight other spectators reported mild injuries.
Bullring employees were finally able to gain control over the bull, and kill it. The bull's corpse was subsequently removed with a crane.