Rod Stewart To Be A Dad - Again - At 65!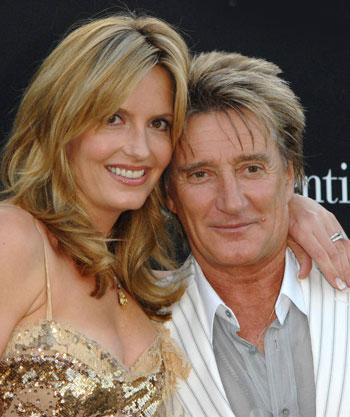 It's seventh heaven for legendary rocker Rod Stewart!
The 'If you want my body and you think I'm sexy' hit-maker is set to become a dad again, at the age of 65, after announcing he and his wife Penny Lancaster are expecting a second child together.
EXCLUSIVE VIDEO: Rod Stewart's Son, Sean, Crashes $200,000 Bentley GT In Beverly Hills
And the pair - who are already parents to son, Alastair, 4 - are 'thrilled' with the addition to their growing family.
Article continues below advertisement
"Penny and Rod were lucky enough to be celebrating more than just their third wedding anniversary in June, as the news came that Penny was pregnant with their second child," a rep for the couple said in a statement.
VIDEO: Rod Stewart says eight is enough
The couple added: "We were thrilled and delighted to be able to tell Alastair that he was going to be the big brother to a little baby, expected just before Mummy's 40th birthday."
"Everyone in the office is overjoyed at this wonderful news," said Lancaster's agents, Nicholas Young and Veronica Pieters.
"Penny is such a lovely person and a brilliant mum and we wish her, Rod and Alastair all the best."