PHOTOS: True Love - Anna Paquin & Stephen Moyer Show Off Wedding Rings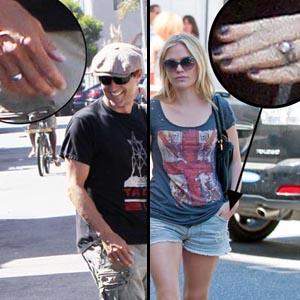 True Blood co-stars and newlyweds Anna Paquin and Stephen Moyer each sported wedding rings Monday, only days after their weekend nuptials in Malibu, California, and RadarOnline.com has new photos of the A-list couple.
Paquin was snapped wearing her diamond ring Monday with her mother, Mary Paquin, at trendy Fred Segal in Santa Monica, while her new hubby Stephen was spotted skateboading around funky Venice Beach, where the couple lives.
Article continues below advertisement
As RadarOnline.com previously reported, Paquin, 28, and Moyer, 40, were married Saturday night, a year after they became engaged on a beach in Hawaii.
Paquin and Moyer's wedding took place at a beachfront Malibu home, and as the reception wound down Stephen and several of his buddies stripped out of their formal wear and got into their swimming trunks for a quick dip in the ocean.
Paquin is a Canadian-born New Zealand actress, whose first critically successful film was The Piano, for which she won the Academy Award for Best Supporting Actress in 1994 at the age of 11 – the second youngest winner in Oscar history.
Her acting career was revived a decade later when she appeared in a string of successful movies including She's All That, Almost Famous and the X-Men series.
The British-born Moyer has been acting in TV and films since the early 90's. He has a son, Billy, born in 2000, and a daughter, Lilac, born in 2002, from previous relationships.