PHOTOS: Teen Choice Awards Fashion Flashback Special!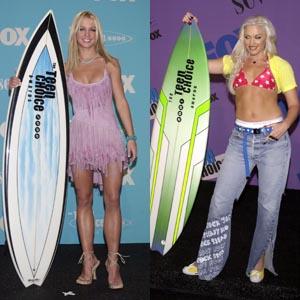 The 2010 Teen Choice Awards are just around the corner, so before RadarOnline.com brings you the Best, Worst and Wackiest fashions live from
the red carpet Sunday, check out all of the most memorable looks a la mode of past years.
From Britney Spears' denim corset disaster to Fergie's farm girl getup, there have been an infinite number of fashion faux pas committed by our favorite stars at the annual teen-oriented show.  Remember when Jennifer Lopez wore sweats in 2001 to collect her Choice Female Hottie?  Or how about when Destiny's Child hit the red carpet that same year, wearing matching neon yellow doily duds?
Article continues below advertisement
There is always an excess of sexy at the show (we aren't complaining!), as many starlets opt to get geared up in designer dresses.  In 2009, Hayden Panettiere was pretty in pink Zac Posen, while Ashley Greene showed off her hot bod in a Dolce & Gabbana corseted ensemble. Before Britney Spears had us humming 'Oops...She Did it Again', the pop tartlet left us panting for air, hitting the red carpet in truly scintillating style.
What designing singer No Doubt-ably wore a bikini on the red carpet in 2001? What pop icon went shirtless in 2000, showing off his washboard abs in all white?  See all of the memorable Teen Choice Awards looks, by checking out the gallery in Style.
And don't forget to check back on RadarOnline.com Sunday night, to see what all the hottest stars are wearing on the red carpet!