PHOTOS: Stalker's Creepy Car 'Tribute' To Jennifer Aniston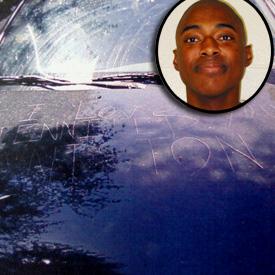 Just a day after Jennifer Aniston was granted a three-year extension on a restraining order against a man suspected of stalking her, RadarOnline.com has obtained these creepy pictures of the man's car, which illustrate his obsession with the Friends star.
Jason R. Peyton, authorities said, carved the phrases "I Love Jennifer Aniston" on both the hood and driver's side door of his automobile, after the 24-year-old Pennsylvania native drove cross-country to Los Angeles in hopes of marrying Aniston.
Article continues below advertisement
Peyton remains on psychiatric hold following the July 20 incident, in which authorities found a sharp object, duct tape and love notes written to the actress.
"Mr. Peyton has aggressively sought to have personal contact with me and integrate himself into my life," Aniston, 41, said in court papers seeking the restraining order. "Due to Mr. Peyton's delusional compulsion and increasingly harassing, stalking and threatening conduct, I have been subjected to a course of conduct which has and is seriously alarming, annoying and harassing me... Mr. Peyton's ongoing, ever-increasing, aggressive and harassing conduct are extremely distressing. I fear for my personal safety and that of those around me."
Los Angeles Superior Court commissioner David A. Cowan ruled Monday that Peyton must stay 100 yards away from Aniston's home, places of work and vehicles, as well as employees, agents, managers and other reps connected to the A-lister.
Peyton, who has a documented history of mental illness, had not been arrested or charged in the incident as of Tuesday.