PHOTOS: Lady Gaga: My Father Is My Inspiration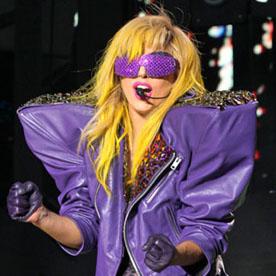 Lady Gaga had 80,000 Little Monsters on their feet Friday night as she kicked off the 2010 Lollapalooza Music Festival in Chicago, but it was a serious story about her dad that had many of those fans the most emotional, RadarOnline.com has learned.
Lady G told her audience her father Joseph Germanotta is her "inspiration," and publicly thanked him for all he did to help her launch her career. She is especially grateful, she said, for the day he carried a piano up the stairs to her first apartment, an apartment he paid the rent on for a year while she struggled to get her first break.
MORE ON:
hollywood happenings
Article continues below advertisement
Lady Gaga is increasingly showing her serious side in concerts. A week ago, RadarOnline.com reported on her highly emotional rant against Arizona's new immigration law and encouraged her audience to protest it.
Lady Gaga Rages Against Immigration Law During Phoenix Concert
Lady Gaga's tour moves to Los Angeles Wednesday and Thursday and she is expected to have a star-audience both nights.