PHOTOS: JetBlue Flight Attendant Steven Slater Relaxes On The Beach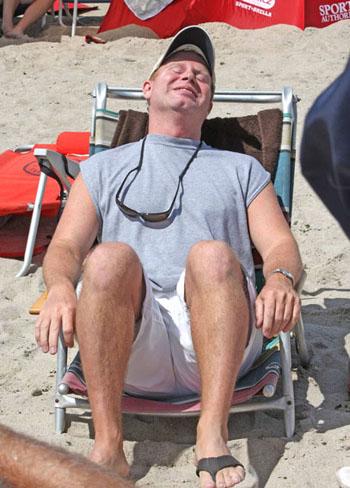 His "I'm mad as hell and I'm not going to take it anymore" rant now several days behind him, Steven Slater spent Saturday working only on his tan. RadarOnline.com has photos of the former JetBlue flight attendant basking in the sun -- and the glow of his new-found fame -- at NY's Rockaway Beach.
Slater was arrested Tuesday and charged with criminal mischief, reckless endangerment and trespassing, less than 24 hours after his on-board meltdown. After cursing out his passengers over the PA system, he grabbed two beers, deployed the emergency slide, and exited the plane.
Article continues below advertisement
Slater initially told authorities that an altercation with a rude passenger who stood up and opened the overhead bin while the plane was still moving on its arrival at JFK, was what caused him to snap.
RadarOnline.com has spoken to eyewitnesses who disputed Slater's version of events, and suggested he was angry and acting bizarrely the entire flight.
VIDEO: Steven Slater's Dramatic Slide From Plane
Slater has plead not guilty to the charges, and will be in court September 7.