PHOTOS: January Jones Goes From Mad Men To X-Men With Super New Role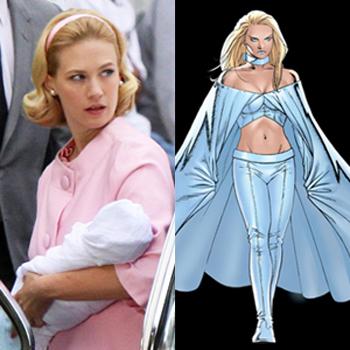 January Jones is the latest Hollywood beauty to squeeze into a cat suit to play a sexy superhero!
The Mad Men star will undergo a major style transformation from prim and proper 60s housewife Betty Draper to ice-cold Emma Frost, a.k.a. the White Queen, in the upcoming X-Men: First Class prequel, CNN.com reported on Wednesday.
Jones will be swapping her frou-frou cocktail dresses and frilly aprons for skin-tight satin and billowing capes in her first major action role. The 32-year-old actress will be showing a lot of her fabulous figure too, as the telepathic comic book character is famous for her ab-revealing cropped tops.
Article continues below advertisement
VIDEO: Stars Dish At The Mad Men Premiere
The costumes will also be a far cry from the beautiful blonde's signature red carpet style, which usually features chic designer items that are sexy but never overly raunchy.
January will be joining a stellar cast that already includes James McAvoy, Rose Byrne, Oliver Pratt, Zoe Kravitz and Kevin Bacon.
Countless high profile actresses have tested out their superhero skills - including Halle Berry, Michelle Pfieffer, Jennifer Garner, Megan Fox and Angelina Jolie – with mixed success.
Before she hits the big screen, Jones will appear as a presenter at the Emmys later this month.