PHOTOS: GTL Works! Jersey Boys Show Off Bronzed Beach Bods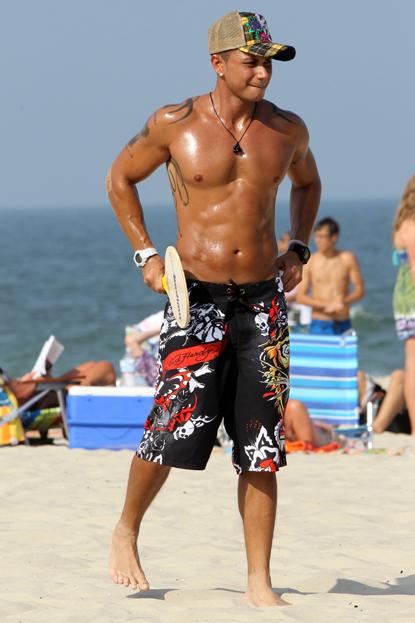 Remember when Jon Gosselin was the face (and gut) of Ed Hardy fashions?
Jersey Shore stars Paul "Pauly D" DelVecchio, Ronnie Magro and Vinny Guadagnino showed off their sexy bodies in the trendy beach gear in Seaside Heights New Jersey Wednesday, and RadarOnline.com has the brand new pictures for you.
It's clear the MTV stars -- especially Magro and Pauly D -- take the GTL moniker (Gym Tan Laundry) very seriously, as the pair of East Coast beefcakes showed off their buffed and bronzed bodies as cameras filmed their antics for the MTV breakout hit.
Article continues below advertisement
NEW PHOTOS: J-WOWW Caught Smooching New Man
Also seen on the beach was Magro's girlfriend Sammi "Sweetheart" Giancola, who didn't look too shabby herself, showing off her toned, tanned, busty frame in a bikini.
New episodes of Jersey Shore air on MTV Thursdays at 10/9c.