PHOTOS: Four-Year-Old Suri Cruise Gives Parents Tom And Katie Fashion Advice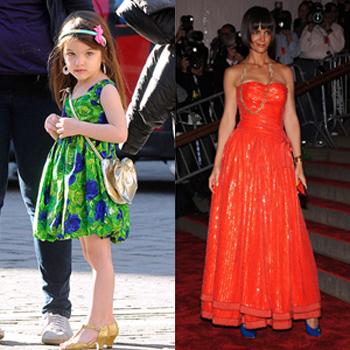 She's already one of the hippest kids in Hollywood, and RadarOnline.com has learned that Suri Cruise offers her famous parent's fashion tips – and even designs her own clothes!
Unlike most four-year-olds, the little fashionista doesn't just get dressed up like a little doll by adults and actually creates her own stylish looks, according to her proud mom.
"She says, "I want this sleeve cut," and it's like, "Okay, we'll cut it." She picks out all of her own clothes and has since she was one and a half," Katie Holmes told New York Magazine, about the trendsetting toddler.
Article continues below advertisement
"Tom and I went to the Met ball a couple of years ago, and I had this beautiful red gown and these royal-blue shoes that I wasn't planning on wearing, but Suri made me put them on and so I was like, "Okay, I trust you,'" says Katie.
Holmes' bright red Giorgio Armani gown and blue Christian Louboutin shoes were at hit at the 2008 "Superheroes" themed Met Costume Gala, but fashion critics had no clue that the look was inspired by a stylist who was barely out of diapers.
Dad Tom Cruise recently told Oprah Winfrey that he too gets styled by his fashion maven daughter. "She tells me what to wear. She's got great taste," he said.
A budding designer herself, Katie definitely molded the young model's creative aspirations. "I started making clothes for Suri when she was born, designing dresses, and then having seamstresses sew them, because I don't sew very well," explained Holmes, who has her own fashion line called Holmes and Yang with stylist and gal pal Jeanne Yang.
Suri's hip couture doesn't come cheap. The pint-sized fashion icon was spotted with a $850 Ferragamo purse recently, but Tom revealed to Oprah that he doesn't mind her over-the-top wardrobe bill. "She wants to wear it, she wears it ... a girl wants to wear what she wants to wear. I'm not gonna tell her different."
Check out Suri's top fashion tips in our style gallery.