PHOTO: Jessica Simpson & Eric Johnson Share A Kiss With The Twitter Universe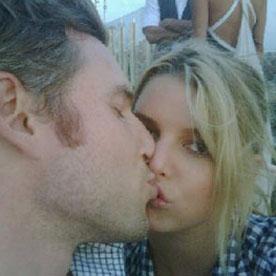 Jessica Simpson obviously wants everyone to know she's in love. She posted a photo of boyfriend Eric Johnson puckering up for a kiss on her Twitter page, and RadarOnline.com has it here for you.
Jessica wrote, "Romance 101..getting kissed by my Yalie...me not lookin' so smart...) but YUM!
Eric graduated from Yale and then went on to several years in the NFL. He had intended to go to graduate school at the University of Pennsylvania this fall but has now changed his plans so that he can stay with Jess.
Article continues below advertisement
The couple only started dating in May but as is the norm with Simpson, she has fast-tracked the romance to the super-serious stage and sources tell RadarOnline.com she is ready to jump into another marriage just as soon as Eric's divorce is finalized.