PHOTOS & VIDEO: Naomi Campbell Admits Receiving "Dirty-Looking Stones" In Blood Diamonds Trial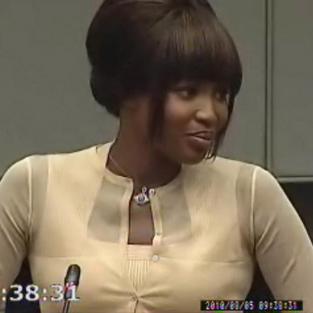 Supermodel Naomi Campbell testified in the Netherlands on Thursday that she had in fact been given some "dirty-looking stones" by ex-Liberian ruler Charles Taylor, who's charged with 11 counts of war crimes, RadarOnline.com can report.
Campbell, according to prosecutors, received an uncut diamond from Taylor -- commonly referred to in the news as a "blood diamond" -- at a September 1997 dinner party in South Africa that was hosted by the country's former leader, Nelson Mandela. Actress Mia Farrow, who was also in attendance at the dinner, said that Taylor had indeed given Campbell the diamonds.
Article continues below advertisement
The stones, prosecutors said, serve as proof that Taylor had been trading firearms to rebels in neighboring Sierra Leone during that country's civil war from 1991 to 2002, which left 500,000 people dead. In exchange, prosecutors said, Taylor received the diamonds and other natural resources from the rebels. He's also accused of murder, rape, sexual enslavement and recruiting child soldiers.
Campbell said that following the dinner party, she'd been given the stones by two African-American men, who woke her up in the middle of the night and handed her a pouch they said was a gift, before departing without another word.
"I saw a few stones in there," Campbell said. "And they were small dirty-looking stones."
Campbell said that it was either Farrow or a a colleague who later told her that the stones were likely diamonds, and that Taylor had intended to give her them as a present. Campbell testified that she passed the stones along to a friend who was connected to Mandela's children's charity.
The volatile supermodel did not want to testify before the war crimes tribunal, until officials in July threatened her with seven years behind bars for for contempt of court.
Campbell, 40, arrived to the courthouse conservatively dressed, albeit late. She told prosecutors she "didn't really want to be here," and wants "to get this over with and get on with my life... this is someone that I read up on the Internet that killed thousands of people, supposedly, and I don't want my family in any danger in any way."