Move Over Jon and Kate: Sextuplet Family Lands TLC Show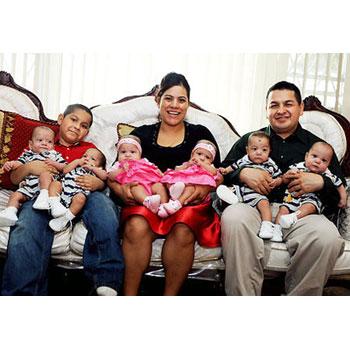 Having documented the Gosselins and their eight children in Jon and Kate Plus 8, TLC is launching a new reality television show, this time following the trials and tribulations of a couple and their sextuplets, RadarOnline.com has learned.
It will be called Sextuplets Take New York.
EXCLUSIVE: Kate Gosselin's Lawyer Asks Court To Dismiss Jon's Custody Reques
The show will follow Victor and Digna Carpio as they raise their seven babies, plus their nine-year-old son. "The Carpio sextuplets, America's first Latino sextuplets, are ready for their close-up, if they can sit still for that long!" the network revealed in a press release.
Article continues below advertisement
"Now 22 months old, these four boys and two girls have just mastered the art of walking and will soon be talking - in two languages."
Kate Gosselin Beams Amid Two New Reality TV Shows
The show will hit the air on September 14 and is set to keep viewers, and the parents, on their toes.
"From 50 diaper changes to three homemade hot meals a day, to balancing doctor's appointments, tennis practice, tutoring, and homework, Victor and Digna certainly have their hands full," the press release continued.
EXCLUSIVE HOME VIDEO: Jon Gosselin Stoned
"Born weighing less than two pounds each and given little to no chance for survival, the Carpio sextuplets are six little miracles."
The show will take the 10pm ET/PT slot and TLC have already bought eight episodes.