Mel Gibson's Car Runs Off Road In Malibu; Actor Not Injured; Read The Police Report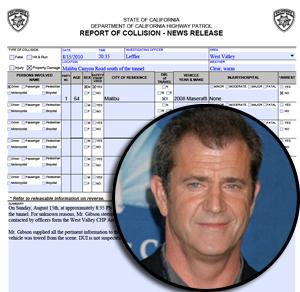 As if he doesn't have enough problems, Mel Gibson was involved in a car accident Sunday night in Malibu, RadarOnline.com has confirmed.
OFFICIAL POLICE DOCUMENT: Read Mel Gibson's Accident Report
The Braveheart star lost control of his 2008 Maserati, and ran into the rocky hillside on Malibu Canyon Road around 8:35 pm, authorities tells us.
The car was damaged, and had to be towed from the scene.
Gibson - who was alone in the car - was not hurt. A friend picked him up and took him home.
Article continues below advertisement
According to a police news release, Gibson spoke to officers at the scene and gave them all the pertinent information, and DUI is not suspected in the accident.