Lindsay Lohan Won't Attend Screening Of Machete; Is 'Moving Forward' Says Attorney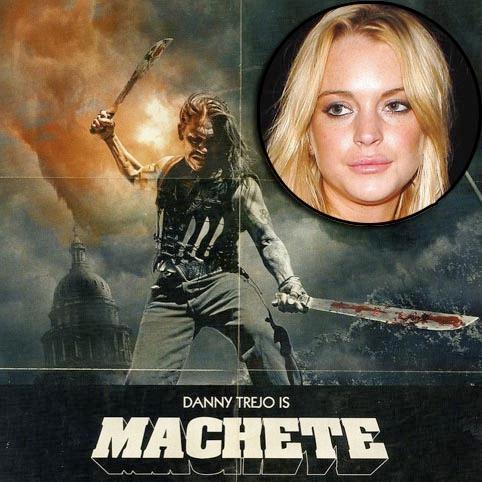 Lindsay Lohan won't attend Wednesday night's screening of her new movie Machete, her attorney tells RadarOnline.com.
"The screening is tonight and when I spoke with her last it was her intention not to do that", said Shawn Chapman Holley.
"She thought it was better for her to focus on moving forward and not necessarily going to something splashy."
Holley did confirm that she will be working, which was one of the reasons the outpatient treatment she will receive is beneficial to her.
Article continues below advertisement
Holley - who spoke Wednesday morning in Beverly Hills after a hearing for the Mean Girls star - also said that her client has "changed, she's healthy, she's clear headed, she's positive and moving forward."
"I am hoping that this is a new beginning for Miss Lohan. This was a good day for her in court. She has complied with everything that has been asked of her. She participated with everything that has been asked of her while in UCLA. She has complied with what has been asked of her in this case.  Today the judge dismissed two of the charges," Shawn Chapman Holley said.
Lohan will not be attending the screening of her upcoming film Machete Wednesday night, her lawyer also confirmed. "She'll be in a lot of therapy, it will be psychological therapy. It will allow her to work, which is positive for her in general."
Shawn Chapman Holley addressed the reasons the doctors released Lindsay after only 22 days in rehab after being sentenced to 90 days by Judge Marsha Revel. "The doctors at UCLA the entire treatment staff there was fantastic, they started fresh, put her through their own testing and recognized she didn't need to be there.
Article continues below advertisement
"It was a combination of things. She has accepted responsibility. She accepted responsibility by going directly into treatment. She did everything that was asked of her there, she accepted responsibility. She will continue to do everything that Judge Fox has asked of her.
"The judge allowed her to leave early only because the treating doctors at UCLA felt she'd done everything they required of her there. They very soon recognized that her there was completely unnecessary.
"They felt that it was in her best interest to move to an outpatient... working, coping, dealing with all of the things all of us deal with everyday."
According to her lawyer, Lindsay is finally in compliance with all of the court's orders. "She's completed her alcohol program. She's looking forward to continuing her treatment on an outpatient basis which will allow here to continue to move forward productively in her work life."
Article continues below advertisement
She asked that her client be treated with support after her release from rehab, "Hopefully you guys will support her as she moves forward... as you have in all of the dark times."
Lindsay will continue her outpatient treatment her lawyer said. "She will work with a 12 step counselor, go to AA, work with her own psychologist."
Lohan is signed on to play Linda Lovelace in a movie and her lawyer said she would be working but did not confirm the projects she would be focusing on.
Shawn Chapman Holley said that Lindsay's incarceration and rehabilitation have had a positive affect on the 24-year-old.
"All of this prompted the change. I think anyone would go through change after what she has gone through in the last month and a half.
"I don't think she's going to be overwhelmed, I really think she's looking forward to this. She's looking forward to beginning anew and having a productive life and schedule."