GroVia: The Best For Your Baby's Needs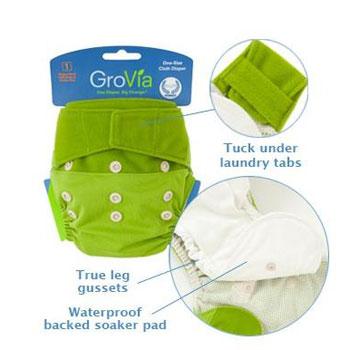 Are you hearing the pitter-patter of little feet, or about to?
Then its time for you to check out GroVia products, which integrates modern technology into the entire baby-changing changing process as we know it, refining it via with years of personal use and testing and taking environmental impact and natural goodness for your baby into account.
Furniture That Gows With Your Children
The centerpiece of GroVia's collection: the All-In-One diaper, which boasts stretchy tabs for a perfect fit with no stuffing or doublers. It has a trim, one-size design that grows with your baby, requires no cover and comes equipped with a quick-dry design.
Article continues below advertisement
With the All-In-One diaper, you can adjust rise snaps as needed, as well as use a snap-in soaker for older babies or heavy wetters.
User testimonials illustrate how satisfied customers have been with the All-In-One diaper.
"This is a great diaper, very trim, soft and absorbent," wrote Heather Whitney, while Janice Pabalate wrote: "My most favorite diaper!!! As soon as I put this on my baby, I quickly realized how much I love it! Its just the perfect diaper! It very absorbent, super easy to use, super trim, and very stylish!"