Furniture That Grows With Your Children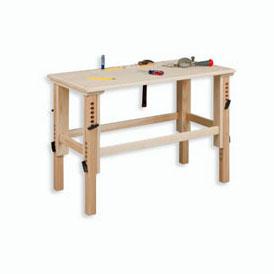 Wouldn't it be wonderful if your kiddies play furniture grew with them, so you wouldn't have to replace it every couple of years when they grow another foot?
Well, designer and craftsman Don McNeill thought so too, and since he was a wood worker, he designed Nec-A-Nec play table for children with a patented adjustable height leg. Not only does it grow with your child, but it's made from solid white ash, beautiful enough for the family room. (Perfect when you need, let's say, a scribble table in the living room.)
Article continues below advertisement
For more images check out our photo gallery
The clear acrylic finish is completely child safe, and you can order custom tables with decorative table tops, such as the chess board with castles. And since the surfaces with artwork are plain white on the reverse side, your little munchkin can explore his or her inner Picasso with erasable markers on the flip side.
They are even designed with surfaces for Brio and Thomas the Train, which as every parent knows, is a big part of childhood.
Unlike much of the rickety furniture made overseas, each Nec-A-Nec Woods patented piece is made to withstand the rigorous play of children.
Hand-numbered and handmade in Ridgefield, CT these tables are worth the price and a terrific deal when you consider that they'll grow with your child.
For more information, check out the Nec-A-Nec Wood site.