Is Your Baby Born Free?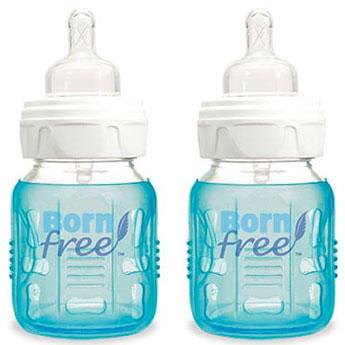 That's the question the company, Born Free, poses on its website, to make the point that they specializes in developing innovative baby feeding products that are 100% free of BPA, Phthalates and PVC.
What is BPA? Bisphenol- A (BPA) is a chemical compound that is a key ingredient in the creation of polycarbonate plastic, a hard, clear plastic used widely in consumer products, including baby bottles and food container. Due to research that the chemical may leach out of baby bottles and cause developmental and neurological problems, the Canadian federal government declared BPA a hazardous substance in 2008 and placed it on the list of toxic substances. The US FDA is now re-examining the issue.
Article continues below advertisement
But why take a risk with your baby's health? Not only are Born Free products BPA free, but also have other great features, such as the anti -colic vent designed for comfortable and safe feeding. And you have to love there re-cycling program, where when you're finished with the product return it to the company for recycling and they'll pay the postage!