Get The Look: Emily Blunt's 1920's Inspired Emmy Hair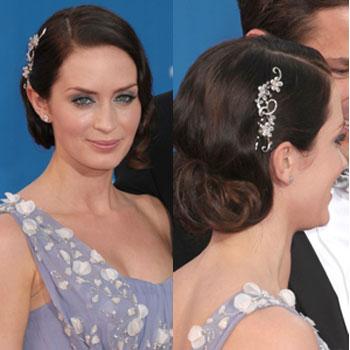 Vintage inspired looks were hot on the red carpet of the Emmy Awards on Sunday, and Emily Blunt was no exception! The gorgeous newlywed accompanied her Office hubby John Krasinski, looking tres 1920's in a light lavender Dior gown. The award winning actress turned to hairdresser Laini Reeves, co-owner of the new Essensuals London Salon on Melrose Avenue in L.A. to create an unforgettable 'do, which was utterly romantic!
Article continues below advertisement
Reeves, who also styled Emily's hair for her wedding, used Morrocanoil products to create a wavy, 1920's hairdo.
"We wanted to create a look that was very different from any that Emily had worn before," Reeves explained. "Once I saw the gown, I knew that a modern look based on the waved looks of the 20's was the perfect compliment for the design."
The haircare guru offers some tips on how to get Emily's dramatic Œdo at home!
Article continues below advertisement