Get Fresh With Mark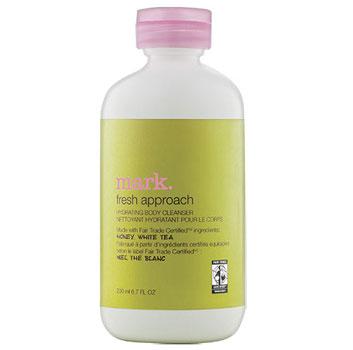 Let's get real, with all the harsh free-radicals in the air many of us struggle with dry and itchy skin. There are so many cleansers and lotions for our face, but what about our bodies?
The beauty line mark. has introduced a new cleanser for anyone who is dying to hydrate their dry skin. The fresh approach body wash is a creamy lotion type cleanser that is said to leave your skin feeling silky, hydrated, and best of all -refreshed.
Article continues below advertisement
Made with honey and white tea, this product is supposed to deeply hydrate the skin and leave no sign of residue. With a very faint odor and light lather, it is claimed to be safe to use on the most sensitive skin.
After a long day out in the sun, we decided to try the fresh approach body wash. We were surprised to see the soap looked like lotion, and provided minimal lather. Once out the shower, we could tell a slight difference in the softness of our skin. There was no sticky or icky feeling afterward, but we felt completely clean. This product is great if you're looking for something that is totally affordable and will lightly condition and refresh your dehydrated skin.