Forbes: TrekDesk's Treadmill Desk 'One of the Best Workplace Luxuries Anywhere'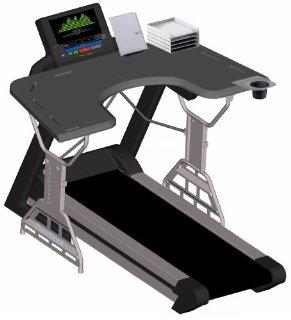 At work, at home, in the car, you're sitting all day -- its a fact of life.
Now, from the folks at TrekDesk comes the Treadmill Desk, a contraption designed to help users stay healthy and lose weight walking on a treadmill right from the comfort of their desks.
Poll: Would You Rather Be Snooki, Lilo, Britney, Or Vienna?
Forbes Magazine recently dubbed the TrekDesk "one of the best workplace luxuries anywhere," to which TrekDesk founder Steve Bordley responded, "We are pleased by Forbes recognition as to the tremendous health benefits attributable to walking and working with a TrekDesk.
Article continues below advertisement
Dylan's Candy Bar Barbie Doll Available Now
"However, based on recent medical evidence, we would replace the word luxury with necessity," Bordley said.
According to TrekDesk, benefits of the item include increased productivity, weight loss, improved moods, disease prevention, stress reduction, anger management and reduced health care costs.
We're recommending them to our bosses. At $479 a piece, we're not sure they'll replace our desk anytime soon.