Exclusive
EXCLUSIVE: Spencer Pratt Sent Snooki's Ex To Jersey To Reunite With Her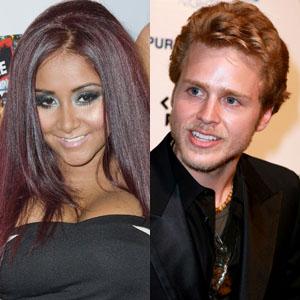 Snooki's ex Emilio Masella rushed back to the Jersey Shore over the weekend following her arrest last week and was sent by a surprising person: Spencer Pratt!
"I heard she was in jail so I asked Spencer to help me get her out and he sent me here to the shore," Emilio told RadarOnline.com. "I just wanted to tell Snooki how much I love her."
Emilio and Spencer have gotten close in past months. Emilio is featured in Spencer's upcoming comedy entitled TOWER 69: BEACH PATROL featuring 3 D BOOBS. In July, they filmed a scene in which Emilio kisses a beautiful blonde in the ocean.
Article continues below advertisement
"She was traveling so much before and I couldn't get in touch with her and now I know exactly where she is so I came down here to tell her how I feel."
Emilio brought some props to show his devotion: he brought her pickles (which he admittedly ended up eating while he waited for her), a flower and wore a $100 t-shirt decorated with the words "I Love Snooki."
"Snooki doesn't trust me and thinks I was at the shore to ruin the show," Emilio said. Despite other people's reservations about his intentions, he insists: "I'm here for Snooki and Snooki only"