Exclusive
EXCLUSIVE: Snooki's Ex-Boyfriend Emilio Makes A Grand Gesture To Win Her Back - And Fails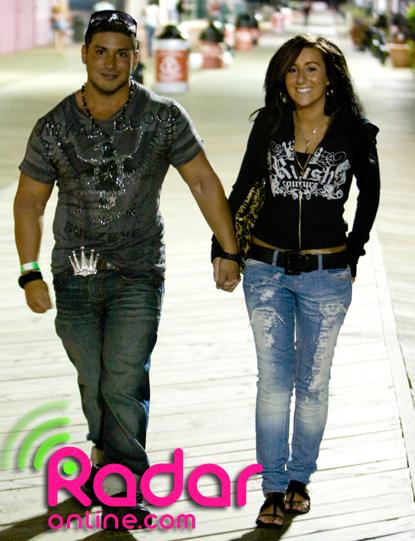 Jersey Shore's Snooki has moved on after her messy break up with guido boyfriend Emilio Masella, but RadarOnline.com has exclusively learned that he's returned to the shore in a desperate bid to win her back.
After falling head over heels for the pint-sized reality star in season one of the show, Emilio isn't ready to call it quits and is pulling out all the stops to try and grab her attention.
"I came back to the shore because I still care about Snooki," Emilio told RadarOnline.com. "I need a chance to really tell her how I feel."
Article continues below advertisement
The tough-guy showed his sensitive side on Tuesday night by hitting the boardwalk wearing a specially-made florescent pink, "Free Hugs," tee shirt (and matching bandana!), after complaining that he was still love sick over losing Snooki.
While getting random cuddles and snuggles from girls who stopped by to comfort him, Emilio was devastated to spot his ex-girlfriend leaving a nightclub with another guy – and leading him back to the beach house.
EXCLUSIVE DETAILS: Jersey Shore New Cast Member Deena Cortese Is A 'Bad A** Brunette'
"Emilio couldn't believe his eyes," a close friend told RadarOnline.com. "He set the whole evening up so that Snooki would go back to him, but she didn't even notice he was there."
In an attempt to make his ex jealous, Masella got friendly with 'hug number 312,' a cute brunette who resolved to cheer him up. Unfortunately, Snooki was long gone and didn't notice. But Emilio hasn't given up.
RadarOnline.com reported last week that thanks to the help of pal Spencer Pratt, Emilio had made a cross-country dash after hearing about wild child Snooki's July 30 arrest.
"I heard she was in jail so I asked Spencer to help me get her out and he sent me here to the shore," Emilio told RadarOnline.com. "I just wanted to tell Snooki how much I love her."