Exclusive
EXCLUSIVE DETAILS: Jersey Shore New Cast Member Deena Cortese Is A 'Bad A** Brunette'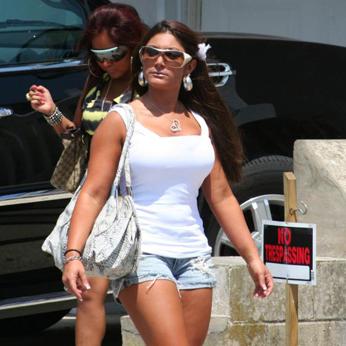 You wanted to know every detail about the newest GTL girl on the Jersey Shore, and RadarOnline.com has all the info!
She calls herself Deena Nicole on Facebook, as RadarOnline.com reported exclusively on Monday. Now we're the first to reveal her legal name is Deena Nicole Cortese. The self-proclaimed "Bad Ass Brunette" has just filmed with her sexy pals for the first time and according to her mom Joann, we can expect fireworks.
Article continues below advertisement
"She's very funny," Joann Cortese told RadarOnline.com exclusively.
"She likes to have a good time, she has a good heart, she has a sweetheart, she might not show it but she really cares about other people's feelings, she really does."
Already the "Bad Ass Brunette" is BFFs with Snooki and she seems like she's going to fit in perfectly with the rest of the cast.
The three most important things to the gang are GTL, so we asked mom -- what does Deena do?
Gym: "She works out; we have equipment at home that she uses."
Tanning: "She goes tanning."
Laundry: "Mommy's here, I still do her laundry! This is a chance for her to learn!"
The 23-year-old is a former cheerleader who was on the squad at Brookdale Community College in Lincroft, New Jersey.
She is truly a Jersey girl and went to New Egypt High School.
Her racy MySpace.com page is filled with sexy shots of her drinking, posing with friends and profanity laced proclamations about her awesomeness.
Article continues below advertisement
"I don't give a f***," is interspersed with sexy photos and quotes like "I'm addictive and expensive like cocaine."
She also noted, "I should just have my own TV show!"
Looks like her dream is coming true.
EXCLUSIVE: Jersey Shore's Angelina Says, "I'm Happy To Be Out Of The House"
As RadarOnline.com reported, Deena and Snooki have been good friends and Snooki even helped get her on the show.
The two were spotted over the weekend drinking out of a beer bong and hanging with J-Woww on Saturday.
"They've known each other for a couple of years," Deena's mom said about her friendship with Snooki.
"Snooki's a sweetheart... I'd say they're pretty close... Nicole lives all the way up state and it's hard, but they keep in touch."
For any juiceheads on the lookout, Joann told RadarOnline.com her daughter doesn't have a boyfriend although she does think she'll get along fine with the guys in the house.
"I think she's going to be good party friends with these guys!" she said.