Exclusive
EXCLUSIVE: Secret Mel Gibson Email, Tells Oksana: 'The Tranquilizers Only Make Me Nuts'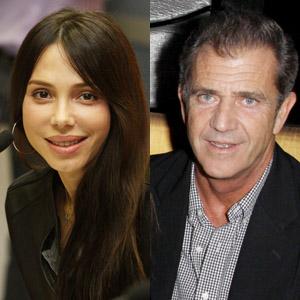 Investigators probing Mel Gibson for domestic violence are looking at a secret email he sent ex-lover Oksana Grigorieva to determine if it provides an explanation for the actor's erratic behavior.
In the email, sent the day after an explosive January 6 confrontation with his one-time lover, the Lethal Weapon star wrote: "The tranqullizers (sic) only make me nuts."
It was an apparent reference to pharmaceutical drug use.
Article continues below advertisement
EXCLUSIVE VIDEO INTERVIEW: Oksana Pleads With Mel: 'Tell The Truth For The Sake Of Your Daughter'
Tranquilizers are depressant drugs that are used in the treatment of anxiety, insomnia — and sometimes during alcohol withdrawal.
The written correspondence is yet more damning evidence in the domestic-abuse probes against the embattled star.
The message could also shed new light on the psychological state of the Oscar-winning director and deliver an insight into what could have caused his angry outbursts against his gal pal.
Mel sent the explanatory note to Oksana from his iPhone on January 7 at 9:39am.
The night before, Oksana has claimed, Mel punched her in the face twice and then tried to choke her while she was holding their infant daughter Lucia, who was only two-months-old at the time.
RadarOnline.com first broke the story -- with world exclusive photographs -- that Oksana's mouth and teeth were badly damaged.
She says it is from Mel punching her during an explosive argument at the superstar's Malibu home.
Article continues below advertisement
Mel's lawyers deny he ever struck Oksana and have accused the Russian musician of trying to shake down their client.
But the email, retrieved from Oksana's phone and computer, which were confiscated as part of the criminal probe, could be used as evidence in support of any charges.
Eleven minutes after he sent that note, as RadarOnline.com previously revealed, Mel apologetically wrote to Oksana, pleading with her to call him so he could tell her "how unspeakably sorry" he was.
In another email, he asked simply: "How's your tooth?"
He also sent her an incriminating text message, at 3:35pm on January 7, admitting: "Oksana, I wasn't safe for you last night."
It also read, "I spent two hours with a therapist today and have regained some perspective.
"What I'm telling you know if I am safe & would like to come by and make amends to you, Sascha and Lucia. I won't stay just let you say your peace and I'll say mine. Let me know if it's alright!"
Mel sent another five brief text messages in the 30 minutes before the mother of his daughter finally replied, as RadarOnline.com exclusively first revealed.
"I have two broken teeth and a concussion," Oksana responded.
"I can not c u today, I'm hurting. U can apologize to Sascha some other time."
"Did you get them fixed yet?" Mel asked about her teeth.