Exclusive
EXCLUSIVE: Rachel Bilson Throws Engagement Party -- For Her Friend!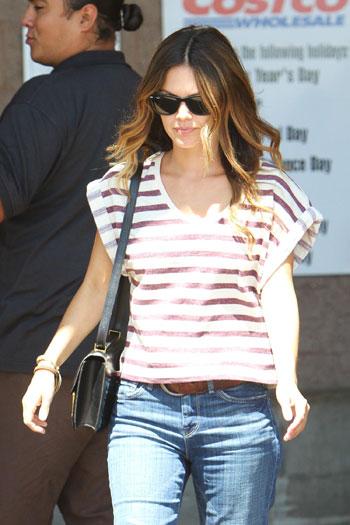 No, Rachel Bilson has not reunited with one-time fiance Hayden Christensen. Instead, the brunette beauty is getting her wedding kicks by celebrating someone else's nuptials, RadarOnline.com has learned.
Bilson, whose engagement was called off earlier this month, celebrated her best friend's bachelorette party in Las Vegas over the weekend. "Rachel was in a really good mood," a source told RadarOnline.com. "She was super sweet with her friend the bride-to-be and stuck by her side throughout the day and night."
Article continues below advertisement
Who Wore It Best: Eva Longoria Parker Vs. Rachel Bilson
Bilson and her group of long-time friends (some even went back to high school!) took over a cabana at TAO Beach on Saturday, drinking Hpnotiq cocktails and checking out the bachelorette goodie bag. "Rachel didn't pay attention to any guys," the source added.
However, the actress did kick up her heels. After hitting LAVO for dinner, the ladies headed to VIP table at TAO Nightclub. "She was definitely dancing and drinking, laughing a lot," the source said. The party danced until the wee hours of the morning, even sporting blue Hpnotiq boas and tiaras.
"Rachel didn't show any signs of being broken hearted!"