Exclusive
EXCLUSIVE PHOTOS: Zsa Zsa Gabor Rushed To Hospital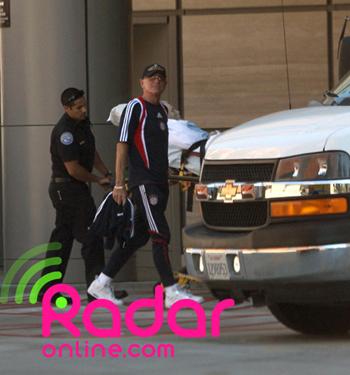 Showbiz legend Zsa Zsa Gabor has been taken by ambulance to a Los Angeles-area hospital after developing complications following hip replacement surgery last month, RadarOnline.com has confirmed.
The 93-year-old Hungarian-born actress was in excruciating pain at her Bel Air home, just two days after returning there from the hospital.
"Zsa Zsa was complaining about pain from her hip, which upon inspection, it was discovered she was bleeding," her publicist John Blanchette told RadarOnline.com.
Article continues below advertisement
Her husband called for an ambulance and Gabor was taken to the emergency room.
The Hollywood icon, who was partially paralyzed in a 2002 car accident, fell out of bed on July 17 and broke her hip.
Gabor has been plagued with health problems since she underwent hip surgery but her return home was delayed because she contracted an infection and went into shock.
Gabor was one of three glamorous sisters who stole the Hollywood limelight in the 1950s and 1960s and starred in movies such as Moulin Rouge, Lili and Touch of Evil.